Press Release: AA Aloha Cars R Us ~ Maui, Hawaii
Website Re-Launch on July 4th, 2017: Hawaii Car Rental booking engine hawaiicarrental.com.
Book cheap Hawaii car rental rates instantly from 11 major car rental agencies.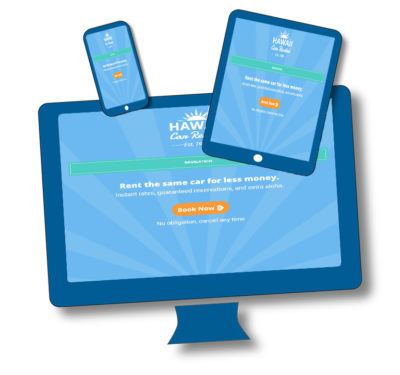 Why should you use us?
Rent the same car, for less money! Instantly reserve our cheap Hawaii car rental rates from our website, you can call us, chat online or have a trained travel agent personally work on your itinerary by filling out our Custom Quote form. During peak rental periods, typically when rates start at $200 weekly, contact us for low cost options you will not find on other websites. We are a licensed travel agency based in Hawaii since 1986. We are here to assist with all your Hawaii car rental needs.
————————————————————————–
We know you have many choices for who you will use, but when asked the question of why a person should use our service, our response is simple: The bottom line are the discounted Hawaii car rental rates &  personal service. This is not a fly-by-night operation, but a business that build's long-term relationships with our clients, many return yearly, many use us for constant  interisland commutes. We started up in 1986 and literally have hundreds of clients that return to us yearly. We understand the simple things like honesty and being available when needed goes a long way. We're truly flattered at the nice things people have said about us! You can find reviews on us on several websites, including Yelp & TripAdvisor. So give us a call: 800-655-7989.
————————————————————————–
————————————————————————–
1. Truly Low Prices
Way back in 1986 a unique idea of shopping clients Hawaii itineraries was formed. By literally calling agencies manually, we would get the lowest rate we could find, then call back the client. So, we started working up close with people many years ago. Today, we negotiate contracts yearly, major agencies know us and trust us, and because we are one of the largest Hawaii car rental booking agents, the agencies compete for our business and you, the client are the big winner. Outside of that, we use the various agencies websites for low rates and promotions and compare them to our low contracted rates. Ultimately, we compare the discounts you qualify for, our contracted rates and websites to quote you a rate.
2. No Hidden Fees
The agencies work with, 11 of them in total, pay us commissions.
We do not charge you for our services, we are completely free.
3. Personal Service and Verified Credentials
We are a licensed Travel Agency in the State of Hawaii.
Established in 1986 and based on Maui, you can read our reviews on Yelp & TripAdvisor. Watch our car rental videos on Pinterest and Instagram.
4. Experience
We started back in 1986, just specializing in one thing. Our least experienced agent has been working here for 17 years. You will be communicating with a person who understands your needs and requirements.
We're proud to say that many of our clients find us through a referral from other satisfied clients or websites. For those of you that are tech savvy, we have a Google page ranking of 5 which is almost unheard of outside of the busiest companies on the web.
5. Industry-leading, we are the only agency that has an Activity/Package with one of the largest Hawaii Car Rental agencies in the world as well as Tom Barefoot Tours, with over 30 years in Hawaii. The activity comes with a low price guarantee! The vehicle contract allows of exclusive overrides, so when others are sold out or often 2-4 times more expensive we can more times than now get you that vehicle at the busiest days of the calendar. This truly sets us apart.
11. Free Alerts and Renewal Notifications
We have something else you probably wont find anywhere else. We monitor daily/hourly cancellations and small windows of vehicles that open up at the holidays, especially Christmas time. Every year we get people in cars, very happy people as a matter of fact.. This is done through following us on Twitter and/or Facebook. Its so gratifying to post a cancellation and then get that phone call from a person desperately looking for a car. It often happens right on the holiday, so yes, we are open during that time of year.
AA Aloha Cars-R-us was founded in 1986. Today, we are one of the largest Hawaii rental car booking tour operators in Hawaii. Agencies compete for our business by offering exceptional contract rates.
"AA Aloha Cars R Us is a participant in the Amazon Services LLC Associates Program, an affiliate advertising program designed to provide a means for sites to earn advertising fees by advertising and linking to Amazon.com"