Aloha, and Welcome to our list of Top 10 Activities In Hawaii!
#1 Top activity in Hawaii is snorkeling! Hawaii is famous for its warm tropical waters and extremely diverse marine life. One of the best things about snorkeling is how little equipment you actually need. You'll only need a properly fitting mask, a snorkel, and a comfortable set of fins.  You might consider a disposable underwater camera, a thin wetsuit, and flotation gear depending on your needs. If you are snorkeling for the first time, you will need a little bit of practice to get used to breathing through your snorkel, Fins, mask, de-fogger and sun screen are a good start. Never snorkel in high surf conditions and never snorkel alone. If your on the Kona coast, my favorite thing of all time is swimming with the manta rays, they are one of the ocean's largest fish,which has a wingspan of approximately 20 feet. These gentle giants are best visible at night, with a spotlight, and have the opportunity to come inches near these creatures. Do you need to upgrade your Snorkel gear?
#2 Top activity in Hawaii is Hiking! There are tons of hiking trails in Hawaii, from trails suited for beginners to trails recommended for advanced and well-seasoned hikers. No matter how short your hike or brief your stay, bring more sunscreen and water than you think you'll need. Hawaii hikes on all islands can range from a Hawaii volcano hike to a hike to a beautiful waterfall, to an extensive coastal trek or to a hike deep into the Hawaiian rain-forest. Hawaii hikes also range in difficulty from extremely challenging like the Na Pali Coast trail hike on Kauai to the short but picturesque waterfall hikes on Maui. Regardless of your level of competence or physical capability, for anyone who is able to walk at least a couple of miles there will be a Hawaii hike that is perfectly suited for you. Always hike with a partner, be aware of every step that you take. Before you go, familiarize yourself with the trail and also be sure you know about the hiking hazards.
---
#3 Top activity in Hawaii is a Luau! The Hawaiian Luau, of all the activities available in Hawaii, its the most Hawaiian activity of all! The luau in Hawaii can truly only be found in Hawaii and this is the reason the Hawaii luau party has established itself in the hearts of the visitors as the "go to" Hawaiian event. A luau is a traditional Hawaiian party or feast that is usually accompanied by entertainment, no first trip to Hawaii is complete without attending one. In the ancient Hawaii, a luau was celebrated for special occasions, much like today. What was different back then was that it was taboo for men and women to dine together!
#4 Top activity in Hawaii is Whale Watching! Whale watching is available to enjoy between December and May. Usually the first of the Humpback Whales to visit will first appear sometime in November followed by a couple more sightings as days pass but the bulk of the whales will not arrive until the Hawaii whale season is in full swing between Dec and May. The Hawaiian Islands are a favorite destination for humpback whales. However, for the best views, go on a whalewatch. By law, vessels can approach whales up to 100 yards away, which is generally closer than you would see them from shore. And often, whales will become curious and approach vessels on their own, to closer than within 100 yards. Do you need to upgrade your camera gear?
#5 Top activity in Hawaii is Land Tours The Islands are blessed with scenic places of breathtaking beauty. Explore the emerald valleys and tropical rain-forests of Hawaii's six unique islands. From legendary landmarks to Hawaii's most historic places, fill your vacation itinerary with a variety of unique attractions only found in Hawaii.
#6 Top activity in Hawaii is Hawaii Theater And Shows. Hawaii is the only U.S. state with its own language, dance, and music. Experience one-of-a-kind festivals, cultural performances, stage shows, musical events and sports competitions throughout the year. Several hotels and resorts in offer complimentary cultural programs for guests where they can learn to string a lei, play the 'ukulele, or dance the hula.
#7 Top activity in Hawaii is Hawaii Helicopter Tours. Taking off into the sky with a helicopter will offer you a unique perspective on Hawaii that few people will ever know. Helicopters provide perhaps the most magnificent way to see the islands offering up some of the best views and most memorable moments. The geological nature of each island is such that the central and highest points of each island are often the most remote, and the most accessible areas are the ones found along the coastlines. Helicopter tours have the unique capability to fly into these areas and hover in valleys, alongside mountain ridges, next to mountain peaks and right next to waterfalls.
---
#8 Top activity in Hawaii is eating our food. No trip to Hawaii is complete without experiencing native Hawaiian fare. Spam Musubi, Loco Moco, Malasadas, Shave ice, Manapua, Poke, Shoyu Chicken, Saimin, Poke, plate lunches, and of course SPAM musubi.. Take home locally made products such as jams, coffees, candies and nuts. From local hole-in-the-walls, dinner shows to some of the most renowned restaurants in the world, Hawaii has a dining experience for every taste.
#9 Top activity in Hawaii is Sailing. Make your vacation in the Hawaiian Islands something you will remember for a lifetime! sailboat charters can take you to swim with the dolphins, snorkel with sea turtles, or get pampered while you enjoy an unforgettable dinner at sea or just have a relaxing cruise under the Hawaiian sun. Its a perfect way to access Hawaii's most stunning hideaways. Sailing in Hawaii whether it be on a Hawaii sailboat charter, a Hawaii boat tour or a Hawaii yacht charter is simply a way of life in the islands.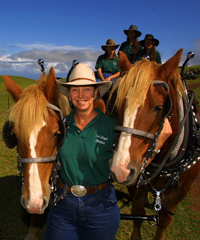 #10 Top activity in Hawaii is Horseback Riding. Hawaii Horseback riding is a much more popular category of tours than you might expect. Horseback riding is a great way to get close to nature and explore the Islands at a slow pace. Saddle up and take off on an equine excursion through the islands most beautiful valleys, forests, ranches and beaches that most folks never get to experience while in the islands. Horseback riding in Hawaii registers over twenty separate and distinct horseback riding companies. Visitors to Hawaii absolutely love to go horseback riding, and the Hawaiian Islands are simply magnificent to explore on Horseback.
Of course this can be different for each person. I created this list based on the 24 years I have in the travel industry.